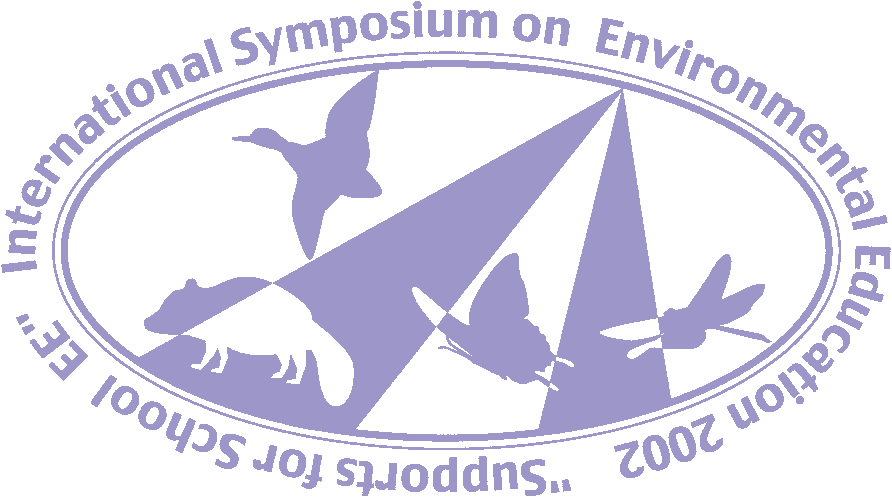 International Symposium on Environmental Education 2002
Supports for School EE
Objectives:
In this symposium, we aim to explore and discuss what environmental education ought to be under the notion that the foundation of environmental education is based on sensitivity toward our surrounding environment and love for human beings in terms of how we interact with nature by learning from the current state of environmental education abroad. Then, we will explore suitable environmental education programs for the Japanese educational system in the light of possible assistance for EE by local authorities, non-government organizations, and academic institutions.


In order to nurture such compassion, it is not sufficient to learn only through written documents and photos. It is essential in environmental education to let people in the real field actually feel and touch their surrounding environment and raise their awareness, in addition to the acquired knowledge, toward the fact that we humans are a part of other living things and are maintained by coexisting with each other.


To achieve it, we should transform the existing "knowledge acquisition-oriented" classes into more "empirical" ones. We also need teachers who are capable of implementing various fieldwork events.


Today, environmental education in Japan has been put into practice as a part of each related school subject such as science and social studies and the "hours for comprehensive studies." Yet, what environmental education deals with should be more diverse in a variety of realms. Thus, a certain system to provide support for schools is needed for this education. The assistance includes suggestions for teaching curricula, provision of professional expertise and methods for environmental education. In this symposium, we will focus our attention on the "EE utilizing natural fields" so as to have a detailed and animated discussion.

This symposium aims to contribute to advancing the level of scholarship on a variety of interdisciplinary fields for researchers from all over Japan and elsewhere in the world, and thus to promoting international friendship among the participants. This is one of the subsidized projects of Japan's Ministry of Education, Culture, Sports, Science and Technology. The symposium is being held as an International Symposium in 2002 adopted by the Ministry.
Participants/Discussion Format:
In addition to the 10 international guest speakers, we will welcome 10 speakers domestically.
About a hundred participants making a special study of this field can also take part in discussions as well as Q & A sessions. The symposium is open to the public. Admission free.
Date:
3 - 5 December 2002 (Tuesday - Thursday)

December 02, 2002 at Sendai Excel Hotel Tokyu

Afternoon: Registration & Get together
December 03, 2002 at Sendai International Center

Morning: Opening Remarks, Keynote Address
Afternoon: Paper Presentations
Evening: Banquet

December 04, 2002 at Izumity21

Morning: Paper Presentations
Afternoon: Reports from School Children

December 05, 2002 at Sendai International Center

Morning: Paper Presentations, Closing Remarks
Afternoon: Small Excursion "Igune"
Venue:
Special Lecturers:
Dr. Jack T. Moyer
Naturalist, The president of Miyakejima Ocean Family, Adviser to the Miyakejima Nature Center (Miyakejima, Tokyo, Japan)

Dr. Paul H. Williams
Professor Emeritus, University of Wisconsin-Madison,Center for Biology Education
Famous for Fast Plant Program.
Lecturers:
Alisara CHUCHA(Thailand)
Faculty of Education, Chulalongkorn University, Professor

Andrea DÉRI
IGES, Capacity Building Program, Program Manager

Miyagi University of Education, EEC, Associate Professor
Heiko CROST(Germany)
Head of the Frankfurt Teachers in Service Training Institute, Hesssisches Landesinstitut für Padagogik
Jennie LANE (U.S.A.)Wisconsin Center for Environmental Education, Energy Education Program, Program Director
NamYong CHUNG(Korea)
Taegu National Universityof Education, Assistant Professor
Neghi WANG (China)
Tohoku Normal University.Professor
Ryokichi HIRONO
Seikei Univeristy, Professor Emeritus
Toshihiko HIGUCHI
Tokyo Gakugei University, Professor
Vicki KELIHER(Australia)
Faculty of Environmental Sciences, Grifffith University, Lecturer, Master of Environmental Education Program
Yoshihiro UGAWA
Miyagi University of Education, EEC, Associate Professor
Miyagi Board of Education
Sendai Board of Education
Kesennuma Board of Education
Chairperosons:
Masaharu YASUE Miyagi University of Education, EEC, Professor

Masahisa SATO IGES, Program Officer, Research Associate

Natsuko HAGIWARA Environment and Lifestyle

Department, Miyagi Prefectural Government, Vice Director General

Takaaki KOGANEZAWA Miyagi University of Education, Professor

Takao WATANABE Miyagi University of Education, Professor

Takashi MURAMATSU Miyagi University of Education, EEC, Professor

Yuri SASAKI Miyagi University of Education, Associate Professor
Special Cooperaters:
Andrea DÉRI IGES, Capacity Building Program, Program Manager
Fumiaki TANIGUCHI Konan University, Professor
Masahisa SATO Program Officer, Research Associate
Ryuuta TANABE Ecosystem Conservation Society-Japan
Yohko KOBORI Musashi Institute of Technology, Professor
Symposium Administration Committee:
Kazuyuki MIKAMI(Chairperson), Masaharu YASUE, Takao WATANABE, Takaaki KOGANEZAWA, Kousei IZAWA, Hidenori SUGAWARA, Hiroshi OMURA, Jinichi MATSUMOTO
Symposium Executive Committee:
Takashi MURAMATSU, Chiemi SAITO, Koji MIZOTA, Yoshihiro UGAWA, Yoshinori SATO, Keiko FUKUI, Noriko MEMEZAWA, Kazuo SASAMURA, Kumiko SUGANAMI, Kiyoshi SAIJO, Toshio KAWAMURA, Yoshihiko HIRABUKI, Masaaki OKA, Masayoshi KOGA, Yasuhiro OTSUKI, Hideki NATORI, Mikasa TIDA, Takayuki INOUE, Yoshiharu ITO, Tomoo TAKATORI, Naoya KOMATSU, Kazuhiro INOMATA, Yoshiyuki KAZUMOTO, Seishi KAWAGOE, Yuji GOUKE, Kenichiro NAKAZAWA, Takatoshi NAGANUMA, Eiji HONGOU
Chairperson:
Dr. Kazuyuki MIKAMI, Professor & Director of Environmental Education Center (EEC), Miyagi University of Education
Symposium Secretariat:
General Affairs Department, Miyagi University of Education
Aza-Aoba, Aramaki, Aoba-ku, Sendai 980-0845, JAPAN
Tel: +81-22-214-3305
E-mail: isee2002@adm.miyakyo-u.ac.jp